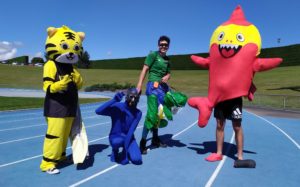 Back at the Massey Athletics track, this year's Secondary Athletics saw the introduction of a lunchtime tribe Mascot-Race.
Students competed in three throwing, three jumping and five running events. Several school records were broken, by the new wave of athletes, and there was very little sign of sunburn. Once again Mr McDonald had organised a fun and challenging sports event.
By lunchtime Naphtali tribe had opened up a lead on the competition, claiming first place. A team of Zebulun seniors students, adorned in red face paint and tutus, carried their tribe to second place by entering every event. And in the Mascot Race, Asher tribe came first, but the inflatable Dinosaur of Asher deflated in the process.