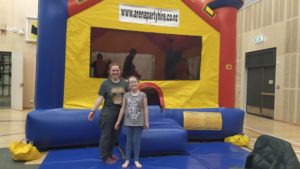 From bottle-flipping, to math tangrams, to bouncy castle sliding, Naphtali tribe dominated our end of term Tribe competition. The light-hearted competition was judged partly on our school values of kindness, and integrity. One of the advantages of a Year 1 – 13 area school is the family and community feel. Tribe teams were organised in family groups, who travelled together around each of the 24 'carnival games'.
When the points were tallied, Naphtali tribe had drawn ahead of Zebulun to win their second event in a week.
Year 9 student Helen, said "it was cool to spend quality time with my little brother. It was an incredibly fun way to end the term."
Teacher in Charge of tribe competitions, Mr McDonald really enjoyed the fun occasion, and wanted to thank the teachers for their energy and enthusiasm to finish the term.