Starting this week in last place, Issachar Tribe won both Tribe football and the Secondary Bible Quiz to now sit atop the House Competition standings.
Football: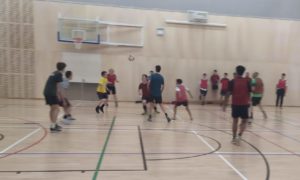 Thursday lunchtime saw reining champions Asher tribe meet 2021 last placed Issachar in the Tribe Football final. Asher had convincingly defeated Zebulun tribe a few weeks earlier, while Issachar had a tough battle with Naphtali to just qualify for the final.
With three teachers on their bench, Asher fielded an experienced and cunning team. Issachar Tribe were largely relying on fearless goal keeper Caleb, and hard hitting striker Griffin. The short 13 minute halves were played at a lightning pace, with end to end action requiring fitness, concentration and a lot of rolling subs. Asher looked strong on their corners, often targeting big men like Mr Jay. However it was Issachar tribe who scored first with a low drive by Griffin. The crowd gave a greater cheer when Ryan nutmegged a certain Asher tribe leader, when charging up the sideline.
The second half was equally action packed with opportunities at both ends. Asher had one bounce off the cross bar, and a header that narrowly missed. At the other end, Ryan sent a scorcher almost through the basketball hoop above the Asher goal. As the clock ticked down, Asher tried desperately to close the lead, throwing everyone forward, to no avail, and Issachar won their first Tribe Football cup.
Bible Quiz: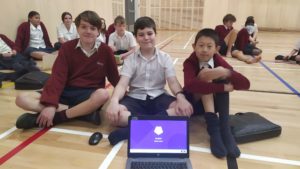 On Friday morning, Tribe teams assembled in the gym for a Year 7-10 division and a Year 11-13 division Bible quiz. There were 25 often challenging rounds for the 40+ teams to navigate. Mr McDonald's classic question of 'they will know they are my disciples by their…. " stumped more than a few groups. (The answer is 'love' – John 13:35). In the year 11-13 division, Issachar Tribe teams set a commanding lead. They had stiff competition from Asher teams and Josh Mc (who chose to enter by himself). Meanwhile the Year 7-10 division had many lead changes over the quiz. Siblings Micah (pictured) and Grace did their tribe and family proud by captaining their respective age group teams to first place in the two divisions.
How neat that both football prowess and Bible knowledge are celebrated equally at Cornerstone. It is especially neat for the author of this article who is in Issachar tribe.