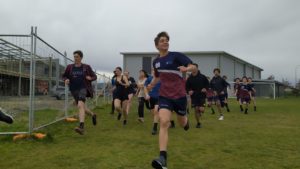 Covid and rain kept delaying the Secondary Cross Country until this week. A determined Mr McDonald oversaw the four year-level races under a cloudy sky at Cornerstone today.
Senior Boys and Girls champions from 2021 Ben and Hannah both retained their titles in their final year of high school. The Intermediate boys race was a tie with three first XI footballers, Joshua, Samuel and Paul happy to share first. Olivia S had a big win in the Intermediate girls race and the Junior girls race was slightly different with a last minute sprint giving Joanna the win.
After half of the races were counted, Naphtali held a strong lead over Asher and Issachar tribe.
Mrs Fletcher, dressed in her Asher Tribe hat and cape was delighted with her runners, doing particularly well in the girls races. "Well done also to all the students who ran hard, despite the weather and optional nature of the event."