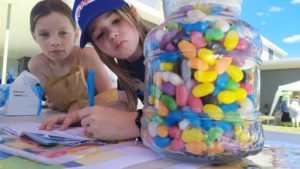 Thousands flocked to Cornerstone this week to enjoy the Annual School Gala. There were ponies and Harleys, golf swings and Thunder Runs, bouncy castles and sticky walls, and a whole lot of fun. For lunch, people enjoyed home baking from the cafe, as well as, Dutch, Chinese, Tongan, Indian Cuisine. Under the hot sun, the ice cream and slushie stalls were well patronised. The driving simulators, were pretty popular, as was the Car-Smashing activity, both of which seemed to have the same outcome. Some kids were quick to spend their pocket money on "Dunk the Principal", as well as lollies and toys, while parents raided the plant stall, and Lavita Coffee stand.
Eloise Short, one of the organisers, was thrilled with how the event came together, after starting the organising process in July. The team were blessed with huge support, generous donations, and numerous volunteers. Over $15,000 was raised towards school playground equipment. Mrs Short wanted to thank "God for putting on glorious weather yet again. And thanks also to Josh Couperous, Emily Gennills, Vicki Campbell and the rest of the Gala Team".
Deputy Principal, James Rose, who had the honour of being 'dunked', was delighted with the event. His highlight was "the way in which the wider community came together to be a part of Cornerstone Culture for the day".