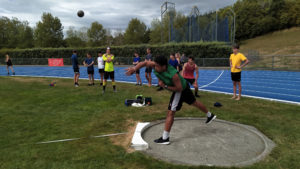 It was a day of breaking shot put records at Senior Athletics today.
Deputy Head Boy Tim Muli flexed his mighty Tongan arms with school records in the Open Shot Put, Javelin and Discus. After breaking his own 12.34m shot put record, he exclaimed "Thank You God for giving me this great throw."
The Intermediate Boys, Senior Girls, and Junior Girls Shot Put records were also broken.
Craig McDonald, the head Track Marshall was most impressed with the 400m Senior Boys race, where his son, Jono's time would have got a new school record. However, it was Trent Burrows who finished first in a time of 54 seconds. Trent's lightning pace was 5 seconds faster than his older brother's school record, set last year.
At the end of individual events, Issachar tribe held a solid lead over Naphtali. However Asher tribe won three of the four double-points relays to make final calculations very close. The winning Tribe will be announced Friday.
Rebecca Mark was the overall event champion, with the most wins in both Track and Field events. Second overall in both Track and Field was Year 7 Tayla Ah Chan. Third place overall was Sports Prefect, and Tribe Captain Shanese Sproull.