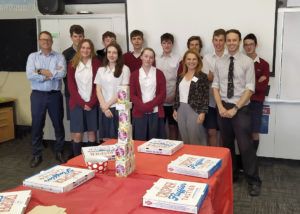 "Whatever we prayed that day, we need to pray that again" was the remark of teacher Gareth Bell, when he heard that an entire class of students earned Excellence in their NCEA Exam. The class of nine students sat their Level 1 Digital "Common Assessment Task" on Compression Coding at the end of 2019 with extraordinary results.
It was unanimously agreed by the class to celebrate, to thank God for blessing them in this way. It was also unanimously agreed that the celebration should involve pizza.
Education and Students Spokesperson for the Palmerston North City Council, Rachel Bowen was grateful to be invited to the event. She particularly wanted to acknowledge the inclusive learning culture that must exist – where everybody can earn a perfect grade.
Jacob Yates, one of the successful students volunteered to pray at the celebration. Along with thankfulness for the food, he was keen for God to continue blessing the school and their class.