Bivouac and catapult building, river rafts and glow worm walks. These were some of the many highlights of Year 6 Camp.
Our Year 6 students were joined ably by Year 10 volunteers to lead them for a week out bush craft, games, and unforgettable learning. Bush Chapel and special God-moments on the night walk were two of the weekly highlights.
See below for Year 6 student, Klarabelle's camp report.
As soon as we arrived at camp, all you could see was children bounding out of vans and sprinting to their cabins. Then the shouts from around the ground of "I dibs top bunk!"
From the first second we started our Fern walk, everyone was just elated. After that we did some problem solving which was uuummmm… tricky. That evening, we did the night walk where you walk through the forest holding onto a rope. However, halfway through the rope stopped, and we all got scared. Eventually we found the next part of the journey.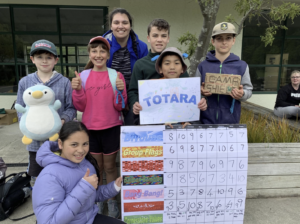 Over the next few days we did a bunch of bush activities, like bush-baking, swimming, stream study, bivouac building, catapult making, target shooting, tug-o-war and orienteering. These events were scored, and points were also given for Christian Character. I'm stoked that my Totara Team won this year's camp shield!
Overall this was a great camp, which in my opinion everyone should get to experience. I'm sure a lot of my classmates will go home and ask their parents if they can go camping in the bush again.
I'd like to thank all the teachers who made this happen including Mr Henderson, Miss Tongs, Mrs Olson, and Mr Mitchell. Thanks to all the parents who volunteered, including Mrs Wren, Mrs Scott and also Charlotte for our uplifting devotions every morning. Finally, thanks to our Year Ten camp leaders, who were brilliant with helping out with any task. I'm hoping to be a Year Ten Camp Leader one day, but for now I will cherish the week that has been.
The whole Year 6 camp to Camp Rangi Woods was exhilarating, I couldn't imagine spending four days in any better way.
Klarabelle
Room C6