Over 80 Year 7 – 10 jumped shouted and danced the evening away at our Eden themed Middle School Social.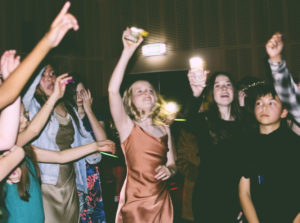 An order of 30 pizzas from Dominos was accompanied by cakes and slices for dessert and dozens of drinks. Benjamin from Year 7 won the marshmallow competition for the boys and a tidy $20 Plaza voucher along with it. Alla from Year 9 won the Fizzy competition, in between dominating the dance floor. Mrs Wainohou won the best dressed competition with her Eden themed headdress.
Senior students from the Social Committee and Tech Team spent most of Saturday setting up, and decorating, as well as running activities, serving food and supervising. showing service, leadership and organisational skills. Social Committee Prefect Anna Taylor-Brock struck a relaxed figure as she oversaw the event. "It's been great working with the social committee", she said. "Seeing everyone get out of their comfort zones and step up to their jobs is fantastic". She was quick to thank Mrs W for her guidance, and the whole social committee and tech team.
Ian Groube, the assistant principal of Middle School was delighted to see the fun, positive atmosphere of the night. "There's great Christian Character here with kids being so inclusive, and enjoying good clean fun." he reported. "I do quite enjoy dancing, I think I might join the teachers out there on the dance floor later on." he said with a grin.