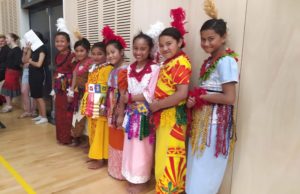 Cultures Day was a celebration of all the different cultures that make up our school. Students brought their own foods, costumes, and performances to represent their people.
Costumes ranged from traditional Indian saris, and Tongan tupenu, to modern day Farmers, and Bunnings warehouse employees. Students shared their cultural lunch in their own classes with a wide range of foods.
The day finished with a full school assembly. It was live streamed for parents who couldn't attend. Students and staff were treated to adorable Year 2 Aroha students singing their Pepeha. There were also performances representing Indian, South African, Chinese, Filipino, Dutch, Tongan, Maori, and Spanish peoples. The afternoon finished with the joyous Tongan performances, and a thank you to the cultures and AV committees for their organisational effort.