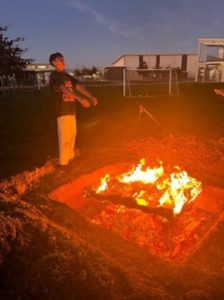 In the secondary school, the Cultures Committee ran an assembly to explain the meaning of Matariki.
Mata spoke firstly, a student poignantly named after this time of year. She explained how the central star of the cluster, also named Matariki signifies the importance of gathering together, and looking after our well being.
Then the meaning of the Pohutukawa star was then explained, reflecting on the year that has been. For Cornerstone that includes the milestone of Esther, our first senior school production, new facilities like the admin block turf, sporting victories like our winning the Christian Schools Exchange, and challenges like how Covid 19 has affected classes and learning this year.
Finally the Hiwa-i-te-rangi star signifying looking forward was explored. Students are looking forward to the school holidays, Senior School Ball, I-Block being complete, and our school's 30th year celebration.
After the assembly students gathered for a giant hangi. Parents and members of the school community had been at school since 4am, preparing the fire pit, and cooking the food. Assistant Principal Ian Groube was one of many to show immense gratitude for the generosity of the school community. "We comfortably fed everyone, and I want to offer a huge thank you to all the community for donating."
Judah, a Year 12 student who'd been at school since 4am to help with the hangi was delighted with the day. "We burnt around 18 pallets, cooked around 25 chickens, and the best part is it's delicious" he said.
In the Primary school, teams celebrated Matariki with meals like a pajama breakfast, or making their own soup and bread. To also honour the Pacifica tradition of this time of year, some classes made kites.