Cornerstone Christian School operates two ministry funded buses each day, from Feilding and from Ashhurst.
Feilding Bus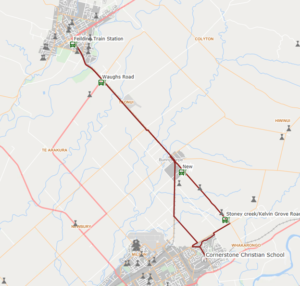 The route for the Cornerstone Christian School Feilding / Bunnythorpe Bus Service is as follows:
The dark red line indicates the new bus route.
In the morning, leaving Feilding (Aorangi Street) Bus/Train Station at 8.10am with an ETA at Cornerstone Christian School of 8.40am.
In the afternoon, the bus will leave Cornerstone Christian School at 3.20pm with an ETA back at Feilding Train Station of 4pm.
Please see below for more detail about the pickup and drop off points shown as green logos on the map.
Feilding Train Station Stop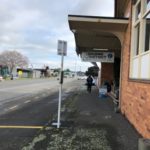 Look for bus number 691, displaying a Cornerstone Christian School placard on the front of the bus
Morning Pickup: Departs Feilding 8:10am Sharp. Please be seated on the bus by 8:05am.
Afternoon Dropoff: Approximately 4pm
Bunnythorpe Bus Stop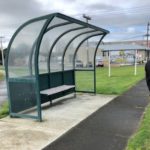 Adjacent to the dairy on Campbell Road (Main road through Bunnythorpe)
Morning Pickup: Approximately 8:30am. Please be there five minutes early
Afternoon Dropoff: Approximately 3:20pm.
Stoney Creek Road Stop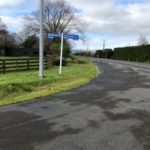 At the intersection of Brairwood Road and Stonebrook Lane. As this is not a public bus stop, please ensure that you wait on the grass verge beside the street sign pole shown in the photo.
Morning Pickup: Approximately 8:35am
Afternoon Dropoff: Approximately 3:20pm
If you have any questions at all about this service, please do not hesitate to call, talk to or email Mr Chris Mitchell, Deputy Principal.
---
Ashhurst Bus
Guildford Street Bus Stop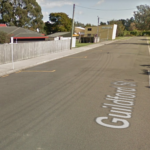 School bus pickup area in Guildford St. All other school buses for other schools should have left this stop by pickup time.
Morning Pickup: Approximately 8:20am
Afternoon Dropoff: Approximately 3:35pm
---
History of School Bus
Our 2017 bus survey indicated that the majority of Ashhurst and Feilding parents would prefer a school bus service over having to transport their children to and from Cornerstone Christian School by car. Based on these results, we worked closely with the Ministry of Education (MOE) to present a case for Cornerstone Christian School Bus services.
In July 2018, we received a notification that the MOE had approved our Feilding bus route. At this stage, the Ministry is not giving any further consideration to our Ashhurst route proposal pending the outcome of a review of public transport services to and from Ashhurst.