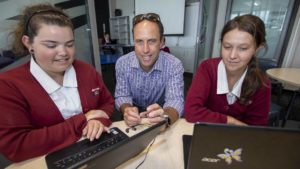 After several rounds of elimination, Cornerstone teacher, Carl McIntyre has won a National Excellence in Teaching Award celebrated at Parliament this weekend.
The awards process consisted of several rounds, starting with a parental nomination and culminating in a speech about his teaching philosophy. Mr Mac, as he is known, was able to demonstrate leadership within the school, with his program of identifying high needs students, like students sensitive to certain light, and helping them with the support they need. His work supporting students struggling with the demands of NCEA was also to be commended.
As one of only five winners of the Excellence in Education award for teachers in the annual competition sponsored by ASG, Mr Mac joins a prestigious group. He was also the recipient of the Founders' Award for Leadership. Quick to defer praise, Mr Mac wanted to thank staff for the 'team effort' that went into all of these endeavours.
After some deliberation, the History and Social Studies teacher has booked a trip to Israel and then Gallipoli for Anzac Day with his $5000 of 'professional development' prize.
Famous for greeting his class with "Good morning, class and God bless you.", perhaps Mr Mac is also quite blessed.
Mr Mac in the News
Listen to Mr Mac's interview on Radio Rhema.