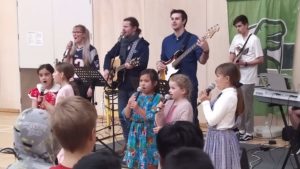 The final Assembly of Term 3, will be remembered for the "Goodbye" to Head of Aroha team Katrina Bannister. The school song was sung in a sad farewell to Mrs Bannister who is returning to the Middle-east to teach.
A "Hello" was said to Year 12 Conrad de Groot, who was voted as the student Board of Trustees representative. The ambitious young man was quick to thank all those who voted for him.
A collective "wow" was said to students earning Duke of Edinburgh awards. James Beere's Bronze award saw him complete weeks of volunteer service at Peppertree rest home, and work on his running times. Silver award winner, Devon Snedden volunteered at Kids' church with rave reviews.
Year 4 singers lead a staff and students worship band as we used the last of the term to honour God.