Secondary Prize Giving was a chance to celebrate the learning, service and growth of our students. The event, held at a packed Crossroads church, opened with a lively performance from Zebrahdahs Rockquest band. For many the highlight of evening was Head Boy Paula Tuimana's speech. His humble words honouring his dedicated mother and father looking down from above left many quite moved.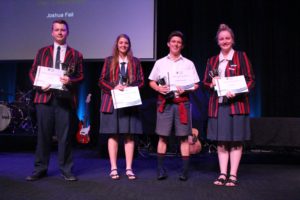 Major Awards:
Deputy Head Boy, Josh Fail won Dux Literarum, along with four scholarships totaling over $15,000 for his studies at Canterbury University.
Jonathan McDonald won Dux Ludorum – the Secondary Sports Cup, after representing the school in eight codes, including being Captain and MVP of our senior boys hockey team, as well as regional men's sports teams, and receiving a Sports Manawatu nomination.
Erica Dekker won the Dux Artium – the Secondary Arts Cup, after her involvement with tap dancing, wearable arts, drama productions, regional dance competitions, and local theater.
Issachar Tribe was the anticipated winner of the school house competition.
Ben Rauzi and Poppy Hewitt were announced as 2020 Head Boy and Head Girl, with support from Deputies Timote Muli and Chloe Grapentin.
Again the teachers created a light-hearted video to the departing Year 13s. The song speaks of belief in their future success, whilst predicting quite varied outcomes for each.