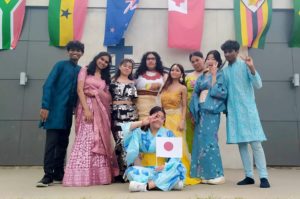 With 46 different ethnicities, Cornerstone's annual Cultures Day was a diverse mosaic of colours, costumes, and cuisines. It was a big day for the student Cultures Committee, who organised and hosted the activities.
The 'each country at a time parade' was a new feature this year, giving students a chance to look at traditional costumes from various countries. There were Tongan, Indian, Irish, Chinese, Spanish, Maori, and American cultural performances by different student groups.
After the performances was the cultural feast. Thanks to parents who provided unique cultural dishes, with senior students looking after younger ones in their family tribes. There was plenty of food to spare for seconds, and even afternoon tea, so once again the Cornerstone community proved to be overly generous.