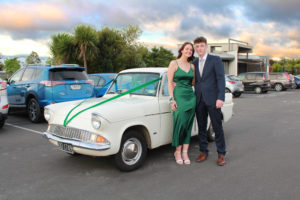 Twice postponed, twice moved venue. Holding a Senior Ball in 2021 looked like a fairy-tale for a long time. However, the Social Committee persevered and managed to hold a Once Upon a Time Senior Ball this weekend.
Students were greeted by Principals Mr Mitchell and Mr Rose at the door. Then handed a bubbles and candy floss drink, to begin the revelry. Over 70 people came, including a dozen staff, a number of former students as 'plus-ones'.
The school AV team outdid themselves, with an impressive array of fairy lights and led strips and cans partly borrowed from Arise Church. The high-ceilings and sound proofing of the school's Gymnasium made it a perfect, and yet unrecognisable venue. Tables were immaculately decorated to the 'Once upon a time' theme.
Enthusiastic Year 12, Nate got the party started with some bold DJing choices and energetic dancing.
The sit down meal was provided by Dos Locos Tacos food truck. Delicious dessert donuts were from Crafted and Co with more than a few left over for midnight snacks.
As the clock ticked towards 11pm, and "dancing queen" by ABBA came on, a number of teachers found their dancing shoes.
"We just prayed it would be a fun celebration", said one teacher.
"Thanks to Amy and the social Committee" said Mrs Wucherpfennig the teacher in charge. "Thanks also to our Year 11 waiters".
"Mrs W did an amazing job organising all of this" said an impressed Mr Rose. "It's fantastic to be able to have an event like this in this time, so well done to all involved".