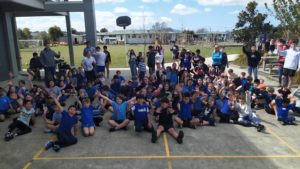 We finished Term 3 with our annual tribe Crossfit Games. Tribes had to flip tyres, navigate obstacle courses and complete cone relays. In a wonderful show of school culture, Senior students spent most of the afternoon, cheering, hand holding, and in some case even carrying the youngsters, instead of competing themselves.
Naphtali tribe had a dominant win, finishing first in three of the four events. Issachar and Asher were a distant second equal.
The Crossfit Games were the main focus of Cornerstone's Fun-run fundraiser. One student even managed to raise over $1000 for their 'fun run' efforts. Sponsorship closes at the end of the holidays.
Principal, Mr Mitchell wanted to thank Mr McDonald and all the teachers who helped run the event.