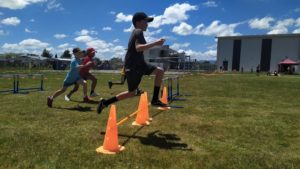 As the clouds left the sky, discuss, shotput and high jumpers filled it at Primary Athletics day today.
Run by Year 7 and 8 students, with plenty of cheering and support, primary classes rotated around all of the running, hurdling, jumping and throwing events.
By morning tea, Asher Tribe had already shot out to a big lead in the overall competition. The day finished, with double points team relays in the gym. Naphtali had a strong showing there to finally haul in Asher for first place. Issachar did enough in their relays to leapfrog Zebulun for third.
With awards given out, records recorded and plenty of water consumed, we thank God for giving us a beautiful day, healthy bodies, and the chance to have fun doing athletics with our friends.