Christian Curriculum – Cornerstone is a Christian school and our curriculum reflects this. Our curriculum is based on the character of God as illustrated through the Bible, God's word. Christian perspectives are encompassed in all curriculum areas and issues involving morality, justice, values and management of behaviour. Godly character development is emphasised and Scripture memorisation is a regular activity.
Family based approach – We provide a family based approach to learning, recognising and upholding the importance of the role of the family, and strongly encourage parental involvement. We expect that parents will support their children and be willing to help whenever possible with matters related to their education, such as attending school meetings and functions, assisting in the classroom, providing transport, assisting at sporting events and participating in fundraising activities.
Special Character
The special character of our school is the commitment to see children build their lives on the foundation (Cornerstone) which is Christ.
Because God is the creator of heaven and earth, of all things visible and invisible, sustaining and ruling over all creation, including humans; and because God is the source of all wisdom and knowledge: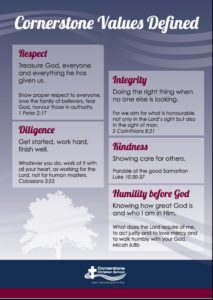 God the Father, Jesus His Son, and the Holy Spirit are relevant to every area of study and endeavour in the school.
How does this impact on our school and our curriculum?
We use the Bible as the basis for exploring God's world and as a standard against which to compare and interpret all curriculum material.
We teach Christian values and behaviour through the process of acknowledgement of sin, repentance, and acceptance of Jesus' gift of grace.
We use prayer as a key tool in learning and acknowledge the Holy Spirit's work in learning.
We encourage each child to give of their best because God creates and equips each person for their unique role in His service.
We acknowledge achievement in accordance with the child's effort.
We inextricably integrate knowledge of the world and Christian beliefs through an integrated curriculum approach.
We act as a continuum and extension of the teaching provided in Christian homes.
We provide an environment where children, parents and teachers can experience Godly relationships, showing the character of Christ in love, discipline, respect, honour and trust, and witness an exemplary demonstration of Biblical truths in the lives of others.
Devotional Themes
One of the key areas in which we intentionally work out our Christian special character is our devotions programmes which occur at the beginning of each day. In primary school, this comprises a variety of different activities including:
Character development through values education
Singing praise songs
Reading the scriptures and memorising Bible verses
Discussing topics in the Bible, hearing Bible stories and writing in reflective journals
Praying individually, in groups or around a circle
In secondary, our Life lab programme seeks to integrate faith into life and so all of the above can happen but at the same time, since we are dealing with young people who are starting to grapple with adult issues, other life-things are integrated, e.g.:
Career development
Academic mentoring
Personal growth issues
Resolving interpersonal conflict
Character development
Discussing life issues etc.
The idea is that our students can grow a sense of God that is relevant in all areas of life, not just compartmentalised to church type situations. His wisdom is there for us always, and his love is ever-present. Our hope is that this will help engender in students a strong basis for strong faith that will be with them throughout their lives.
Each term has a specific devotional theme which is not only focused on during morning devotions but runs throughout the curriculum and is linked to the school values, e.g.:
God is sovereign – Respect
God is creator – Diligence
God is holy – Integrity
God is redeemer – Kindness
God is number one – Respect
God never changes – Integrity
Yr 7-13 Biblical Integration
The Secondary school has an underpinning philosophy that the Bible is narrative in nature, seeking to view Scripture as an unfolding drama in which the school and each student has a unique role.
Each students is an 'actor in an unfinished drama'. If they can understand the question of what story they find themselves part of, then this can help them to live out the Biblical story in the prevailing culture.
Each term the school focuses on books of the Bible and how those stories fit into the big narrative. The values and themes of the whole school will naturally flow from these stories.
Term 1: Gospels
Term 2: Old Testament
Term 3: Letters
Term 4: Psalms and Wisdom
Values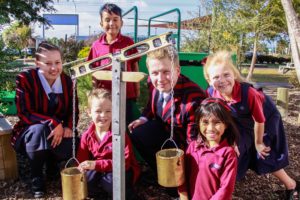 Our core values are Respect, Diligence, Integrity and Kindness. We have an underpinning value of Humility before God.
Our values poster depicts the tree spoken of in Psalm 1; it represents a person "whose leaf does not wither", who "brings forth fruit in its season" and who prospers "in whatever they do", because "their delight is in the law of the Lord".
These values are not just a few words on a sign which we forget about most of the time; rather, they encapsulate the beating heart of what we are all about as a school. They form a large portion of our thinking and teaching, particularly in devotions.
Early in 2016, staff spent two days defining the values and thinking about what they actually mean in different contexts, e.g. in the classroom, playground, while eating lunch etc. The definitions are shown on the poster below. Our teachers proactively teach and encourage our students to think about how they can develop these values in all of life.
The New Zealand Curriculum –
Our curriculum incorporates the vision, values, key competencies, learning areas and principles inherent in The New Zealand Curriculum.