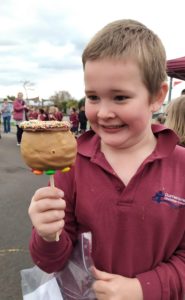 With a dozen stalls selling food from all corners of the globe, there was a lot of choice. New Principal, Mr Mitchell was keen for an American Hot Dog, while Hugo a Year 3 (pictured) was pretty chuffed with his Caramel Apple.
Student prayers were answered with the clouds withholding their rain. It is rumoured some students selling hot food may have even prayed for a cold day.
The school values of kindness and respect were embodied with Year 7 and 8 students chaperoning younger buddies. One Year 7 announced they'd just made two new friends among the year 2 class.
Trade Fair is run entirely by Year 10, 11, 12, and 13 business students. In groups they learn about budgeting, marketing, team work and sometimes even make a tidy profit.
The first table to sell out was the Caramel Apples, while the Pikelets and Ice Creams had the biggest queues. Bingo Burgers had the most aggressive marketing.
Teacher in Charge of Business Studies, Mrs Wucherpfennig was proud of how well the groups came together. "The Burgers, Butter Chicken and Pikelett groups were so well organised. They set themselves up for success." Mrs W also wanted to thank parents for all their support at home, and hoped the students did their own dishes.
Deputy Principal, Mr Rose thoroughly praised the success of the event and said he enjoyed "every mouthful".