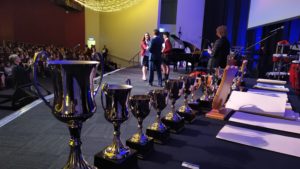 Prize Giving was a day of celebrating learning, service and Christian character . The Primary Prize Giving ceremony held in the afternoon, and featured regular class performances. Principal Mr Mitchell was quick to highlight the successes and triumphs in this year that will be remembered for the adversity.
The Secondary Prize Giving evening started with a cheerful note of students performing Christmas Carols. Parents were also delighted by the senior Dance Troupe, and Rockquest band performances. For many the highlight of the evening was the Tongan traditional dance 'Sōkē'.
Head Girl Poppy Hewitt reflected on her experiences in her years at Cornerstone. She particularly appreciated the time to "grow my faith and ground my belief."
Assistant Principal of Primary school, Raeleen Simpson loved how the day was a chance for families to celebrate. "We've been overwhelmed by the support from so many families at this time of year." Mrs Simpson reported.
Major Awards:
The Dux Ludorum award went to Jono McDonald. His main sport is hockey, where he captained and top scored in the school's first Lower North Island Tournament win. He also represents Manawatu in senior Men's hockey, and is in the New Zealand Hockey Development Squad.
The Dux Artium Cup was awarded to singer and Deputy Head Boy Timote Muli. Timote, served as worship leader in school assembly, lockdown and Year 10 camp worship. His performances in Music and Drama classes earned him top marks in each. He also won best vocalist in the Rockquest competition for a song he wrote with his band.
The Dux Litterarum was awarded to Nathan Soong. Nathan first topped a year 13 class while in Year 10. He heads to Massey University next year to pursue an Honours Degree in Chemical and Bio-process Engineering.
Scholarships: Current head students Chloe Grapentin and Ben Rauzi both won $10,000 scholarships to Auckland University. Chloe also won a $16,000 scholarship to Otago University, while Ben won a $22,000 scholarship to Canterbury University. Arts Majors, Dottie Leauanae and Timote Muli won $5,000 scholarships to Victoria University. Nikita Martin and Mark McIlwaine also won notable scholarships.
Sports Awards: Trent Burrows and Rebecca Mark were the best overall senior sportsman and sports woman for the many sports they play. Oliver Southall won the Middle School Sports Cup, while Harrison Rose won the Primary School Sports Cup.
Service Awards: Ben Rauzi won the Senior Secondary Service Shield. True to form he spent part of the night serving on the sound desk. Kiarna Lowe won the Middle School Service Shield.
2021 Head Students: Mollie Auer and Conrad De Groot are the 2021 Head Boy and Girl. Kate McDonald and Daniel Murray are to be their deputies.
Staff Video to Year 13 Leavers