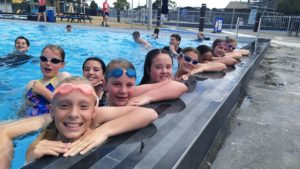 Issachar tribe, managed to retain their swimming trophy for the third year running. Naphtali drew ahead of a well-organised Zebulun tribe for second place under the hot Feilding sun.
The day will be remembered for aerial acrobatics, close finishes in races, a feisty staff swim team, and roaring singing on the bus ride.
Liam Simpson took out the top senior boy event, and helped Issachar to win both senior relays. Abi Dore-Wright was the senior girls champion. Neither of them could catch the staff or cheeky parent relay team. However in the final leg, a staff member who shall remain unnamed, sacrificed a first ever victory over the students so he could take out the parent team. Perhaps a representation of the competitive yet fun nature of the day.
Winning Issachar Tribe leader, Benjamin Murray wanted to "thank all the volunteers, parents and teachers for helping out on the day. Also congratulations to everyone for doing their best."