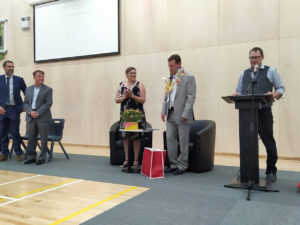 Today we fare-welled Dr Peter Ferrar, who served as the school's third Principal from 2013 to 2019.
In his seven years at the helm of this school, he lead the successful application to expand into teaching secondary. He shepherded in an incredible growth phase, with student and staff numbers almost tripling, and a constant waiting list of more students trying to enroll.
He oversaw construction of G-Block, H-Block, the Gymnasium and L-Block, taking special interest in the scenic trees and flowers to keep the school colourful.
More important than the development of secondary uniforms, science courses, and policies, he stood for our school's Christian Character. He championed the values of Diligence, Respect, Integrity, Kindness and Humility before God at every opportunity.

Dr Ferrar is taking a well-earned break before embarking on his next educational endeavour. Mr Chris Mitchell is standing in as Acting Principal, while the board begins the employment process.
We thank God for the blessing Dr Ferrar has been to our school.