The Cornerstone Christian School Board Of Trustees have now concluded the appointment process for the Principal vacancy.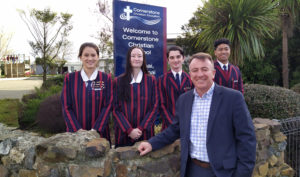 The Board were blessed with the high calibre of applicants for the position and many hours of zoom meetings were consumed with the interview and deliberation processes.
We are pleased to announce the new Principal of Cornerstone Christian School is Mr Chris Mitchell.
We look forward to the settling of our community for the remainder of 2020 after a surreal beginning to the year. The Board would like to acknowledge the incredible breadth and depth of the dedicated staff and committed families we have here at Cornerstone. We look
forward to walking well together to with that which God has called us all to do.
Jo Auer
Chairperson
Board of Trustees