After medal placings in 2018 and 2019, the 2020 Cornerstone First Eleven hockey team won their regional tournament today in Napier.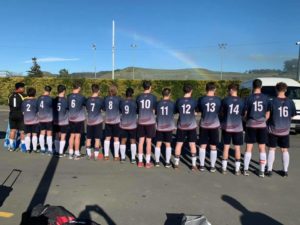 Day One – Tauhara College
Cornerstone's first game of the tournament was against Tauhara College, their toughest opponent of Pool D. Down 2-0 at half time, and then 3-0 shortly afterwards, the boys began a fightback, only to succumb to a late goal and lose 4-3.
Day Two – Double Header
Tuesday started with an early game against Tararua College from Paihiatua. Competing against a school with only twice the secondary population, Cornerstone cruised to a 12-1 victory with Jono McDonald scoring five goals. Caleb, Milan, Conrad, Trent and Benjamin also got on the scoreboard. Benjamin Murray exhibiting his prodigious power from the Penalty Corner for a memorable goal.
Later that day, Cornerstone played Otumoetai College. Not surprisingly the school of almost 2000 brought a full squad of 18 to the tournament, compared to Cornerstone's 15. Conrad de Groot had a day to remember, scoring a hat-trick. Timote Muli kept a clean sheet in goal, with a few last minute interventions from Ben Rauzi at the back. Jack and Jono each contributed a brace of goals in an emphatic 8-0 win.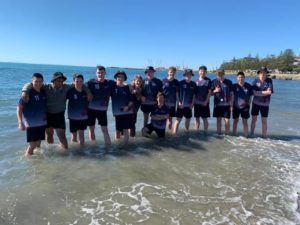 Day Three – Quarterfinal
For their quarterfinal match, Cornerstone faced Taupo-nui-a-Tia College, who won 7-0 the last time these sides met. The game started badly for Cornerstone, with Taupo-nui-a-Tia College scoring a fine field goal in the 9th minute. Cornerstone stayed in the game with Conrad scoring from a Penalty Corner in the third quarter. Just as it was looking to go into strokes, Conrad repeated the feat from another Penalty Corner to put Cornerstone into the Semi-Finals 2-1. One parent on the grandstand commented that 'it should have been the final, it was such a close game'.
Day Four – Semifinal against Aquinas
Aquinas College showed fine defence in qualifying for the semifinal. Coach Jannell Eade made the right move early on, sending on two Wong brothers at the 10 minute mark. Zack Wong promptly contributed nicely to Milan's second goal of the tournament. Liam Simpson then scored to make it 2-0. Displaying our school value of Diligence, the team pressed hard right until the end, and were rewarded nicely with a goal in added time.
Day Five – A Final, and a Familiar Opponent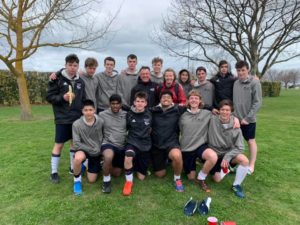 The game was well supported by Cornerstone. A number of parents as well as Principal Mr Mitchell made the trip over to Napier for the game despite only 20 of them being allowed in the socially distanced stands. The 2pm kickoff allowed a number of classes back at school to live-stream the Friday afternoon game.
The other team to make the final was Tauhara College, who beat Cornerstone 4-3 back on Day 1. The rematch was a tough and tense battle, with the teams locked at 0-0 at half time. Fearless goal keeper, Tim Muli was unbeatable with some lightning saves.
The second half was one to savour for Captain and departing Year 13 center-half Jono McDonald. He tomahawked a Penalty Corner rebound shortly after the half-time break which Milan skillfully deflection into goal to make it 1-0. Jack Sproull showed he had plenty of courage and running left in the legs to setup Penalty Corners in the 41st and 45th minutes. Jono gladly converted both to put the game out of Tauhara's reach at 3-0. He completed his hat-trick after stealing the ball and fooling the keeper to go the wrong way. The final score was a momentous 4-0 to Cornerstone.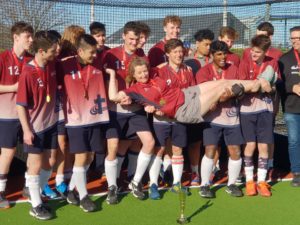 Prize Giving
As well as the tournament trophy the players and coaching staff were each given the golden medal. It goes nicely with their Silver medal from 2018 and Bronze from 2019.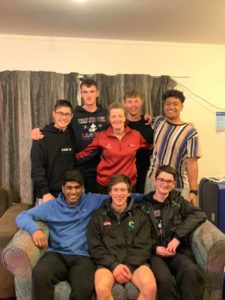 Coach Jannell Eade, was delighted with the 'dream' outcome. "We believed in ourselves and we achieved it". It was an understandably emotional day for her after coaching many of the boys for the last five years.
Captain Jono McDonald finished the tournament as second highest goal scorer with 13 to his name. Quarter-final hero, Conrad placed 5th with 8 goals, while Milan's goal a game scoring rate placed him 12th. Coach Jannell refused to highlight any individual of the team, with all fifteen players completely selfless, completely unified and utterly deserving of the result.