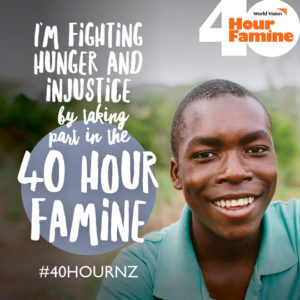 The 40 Hour Famine is just around the corner (June 5-7), and this year things are going to be a little different.
Fundraising this year might be a little more tricky, but every cent counts towards improving the life of those in Malawi stricken by hunger and climate change. Although the fundraising may be online, the hype is all the same, there will be fun challenges alongside lots of creative and memorable moments.
Cornerstone has had a fantastic history with the 40 Hour Famine and this year let's keep that rolling. Even though we are all in lockdown we will continue to do good and honour God through service.
Here is where to Sign up to do the 40 Hour Famine for Cornerstone, and start fundraising.
"In the same way, let your light shine before others, that they may see your good deeds and glorify your Father in heaven."
Matthew 5:16
God Bless
Chloe, Ben and Irin
Missions committee