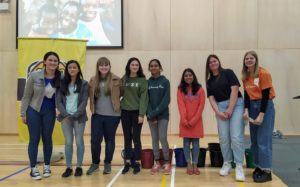 Cornerstone had it's most successful 40 hour famine fundraiser this year. Despite the distance challenges of lockdown, the school still raised $4270 for the needy in Malawi. As Hayley (pictured right), our local World Vision Youth Ambassador said, this will make a world of difference for the people of Malawi. She talked about the difference a small herd of goats would make to a family's lifestyle.
Cornerstone's missions committee ran a series of events leading up to the big weekend. Students were challenged to get outdoors, or create something sweet for someone.
The top student fundraisers were awarded their World Vision Badge. The most successful of them was Elijah from room C2 who raised hundreds of dollars for the cause. "I just want to thank my Mum", Elijah was quick to report, showing our school value of humility. He also showed no small amount of diligence in going 40 hours without eating.
The series of event also doubled as a tribe competition, with Elijah's Zebulun Tribe beating last year's champions Issachar for the win.
Thanks to Chloe, Andrea, Ben, Irin and the rest of the mission's committee for running the events, and thanks to all those who supported our World Vision effort this year.