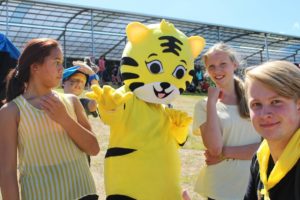 In a glorious sunny day at the Massey Athletics track, Issachar tribe made a clear statement with another clear victory at secondary athletics.
Several records were set on the hot day, cooled by Mr McDonald's supply of water bottles, and ice creams from Mrs Kool. Several students set dominant times and distances, showing Cornerstone will once again punch above its weight at the Manawatu Inter-Secondary Schools Athletics competition.
The day finished with tribe relays, with the teacher's team again struggling to keep up. Issachar tribe won the junior boys and girls relays, with Zebulun winning the senior Girls relay and Asher tribe setting a blistering new school record to take out the Senior boys. The premier athletics champions were both Year 12 students, with speedy Jono McDonald, and all rounder Bex Mark enjoying the honours.